40 YEARS IN BUSINESS!

OCTOBER 20, 2014

RARE SINGLES, EP, LP PAGES UPDATED!
I have just updated these pages with new listings plus cheaper prices!
SINGLES / EP'S
WORLDWIDE LP'S



ON STAGE FTD VINYL IN STOCK!
I have only one copy on the FTD vinyl version of the ON STAGE LP left. For further details please go to the FTD page.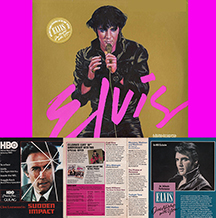 ONE NIGHT WITH ELVIS LP WITH PROMO BOOKLET!
I have just added a rare HBO LP with special promo booklet. When they issued this LP HBO also put out a special 24 page booklet (5" x 6 1/2") for some of their customers. For further details please go to the RARE VINYL page.





All written material in this website copyrighted by WORLDWIDE ELVIS, 2014
Designed & edited by: Paul Dowling
WORLDWIDE ELVIS; P.O. Box 17998; Sarasota, FL. 34276-0998
(941) 346 - 1930
Email Marketing You Can Trust