41 YEARS IN BUSINESS!
AUGUST 28, 2015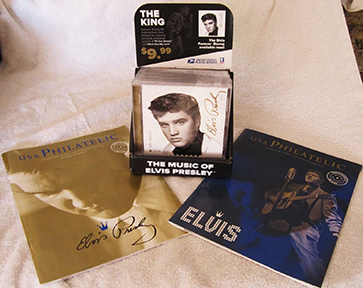 ELVIS FOREVER PROMO CD DISPLAY!
(NOTE: For bid only on E BAY!) As everyone knows the USPS has just released a new ELVIS FOREVER CD stamp and along with it a special 18 track CD is available BUT ONLY to a few selected post offices as I'm sure many people reading this have found out! Apparently the CD is now SOLD OUT. I am offering a special promotional display that only was available for USPS management. It includes:

- 10 STILL SEALED CD'S!
- SPECIAL 5" X 6" X 9" CARDBOARD DISPLAY!
- TWO 34 PAGE PROMO "USA PHILATELIC" MAGAZINES WITH TWO DIFFERENT COVERS! BOTH HAVE THE SAME INSIDE FRONT COVER PICTURES / ARTICLE ON PAGES "0" AND "1", THE SAME ORDER FORM ON PAGE 2, AND THE SAME BACK.
For more details please go to the E BAY store.

NEW WWELVIS PAGE!
I just added a new page listing all of the U.S. and foreign books and magazines I have in stock. I still need to go over it and include more informat.ion about certain books and i will get around to it soon. I will also be adding the U.S. magazines soon. For more details please go to the WORLDWIDE BOOKS page.



BEST OF BRITISH '59-'60 BOOK
FTD just announced a new book / CD due in September. For more details please go to the BMG FTD CD'S page.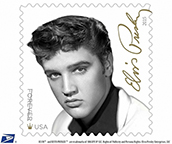 ELVIS FOREVER CD!
The U.S. Post Office has released a very very limited CD to promote the new U.S. ELVIS FIREVER stamp. This CD (with two unreleased outtakes!) is only sent to selected post offices in the U.S. and will never ever be made again. I am getting only 5 copies so if you want one please let me know NOW . For more details please go to the BMGUSCD'S page.



All written material in this website copyrighted by WORLDWIDE ELVIS, 2015
Designed & edited by: Paul Dowling
WORLDWIDE ELVIS; P.O. Box 17998; Sarasota, FL. 34276-0998
(941) 346 - 1930
Email Marketing You Can Trust