HELP BRING "ELVIS ONLY" TO YOUR HOMETOWN

WWE spoke recently with Jay Gordon, host of the long-running syndicated radio series, ELVIS ONLY . Jay has been playing Elvis on the air for nearly 20 years (on traditional, no-subscription required free radio) and is aggressively working to expand his affiliate base in international markets. Hešs looking for your help!


WWE: Jay, for the benefit of those fans, especially overseas, that arenšt yet aware of what you do, tell us a bit about ELVIS ONLY .
EO: Išd be happy to, but first I want to thank you, Paul, for the opportunity to reach out to the Worldwide Elvis audience. You and I have worked together for several years in promoting the FTD series, and Išm happy that wešve been able to support this very worthy collection of releases.
ELVIS ONLY is the "All-Elvis Hour". Wešre heard on radio every week (usually Saturdays or Sundays) on about 50 radio stations in the US and Canada. On January 9 we began our 19th year, which is no small feat, in a broadcasting industry that is fickle by nature and not very "Elvis friendly". We have an incredibly loyal audience that has provided very vocal support over the years.

WWE: How do you account for Elvis' continuing appeal?
EO: I accept the fact there's a major part of his popularity that can't be explained. Why do people want to visit his birthplace and not Elton John's? Why do supposed strands of Elvis' hair, and not John Lennon's, appear on eBay? I don't know that there are specific answers, but I firmly believe that at the heart of it all is the music. There's something magic in the music that makes people feel good. As long as people have functioning ears, Elvis will endure.
Very few artists have not only the appeal, but the depth of popularity to enable an hour-long radio show to prosper. There are Beatles shows that are similar to ELVIS ONLY . I think there's still a Grateful Dead hour out there. But that's about it. He remains an embedded part of our pop culture, and there's no indication that he's going away.<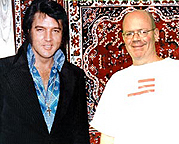 WWE: You're a second generation Elvis fan. How did you get into Elvis?
EO: My father has been a fan since he saw Elvis on Steve Allen. When I was growing up, in the early and mid 70s, he had a stack of Elvis albums next to a console stereo in the living room. He listened to Elvis as a way to unwind, and that's how I first heard the music.
On several occasions, Elvis performed in our area. My father had tickets, and asked me if I wanted to go. I still cringe when I admit that on two or three occasions in '74 and '75, I said I wasn't interested. He asked again, in June of '76, and I agreed. We saw the matinee show at the Providence Civic Center on June 26, and after visiting with the scalpers outside, went back in for the evening show.
At the night show, I went down near the stage, and sat in an empty seat next to the sound engineers. I guess that age eleven I seemed non-threatening enough, because they let me stay. I have a vivid memory of studying that big audio console. I remember seeing channels labeled "Elvis" and "J.D". It's ironic in light of the fact that the engineers were likely making a "soundboard" recording similar to the many we've marketed on ELVIS ONLY .
We saw one more show, on May 23, 1977. I still have my Instamatic snapshot, showing Elvis taking his final bow. I took a little razzing the next morning in school, since my sixth grade classmates felt Elvis was very uncool. This was the era of Kiss and Barry Manilow, after all.

WWE: How did ELVIS ONLY come to be?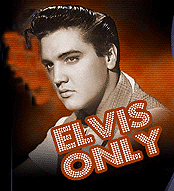 EO: I became interested in radio while in high school, and had an internship at a station in my hometown ­ Worcester, Massachusetts. When I went to college, Brandeis University, I worked on-air at the little campus station. And then, while still in school, I started working weekends at a Top 40 station in Boston, and later went to a classic rock station and then an album rock station. Even at classic rock, Elvis was not a focus of the format. So, as always, I listened to Elvis as recreation. Being an Elvis fan and being a radio jock were almost completely separate from one another.
In the fall of '87, the album rock station changed formats to Oldies, and I was hired fulltime, to work the overnight shift. Within a couple of months, I was asked to create an Elvis hour, and ELVIS ONLY was born.
In the first few years, we were heard only in Boston. In 1991, we signed on in Cleveland. Over the next few years, we added St. Louis, Tampa, Houston and several others. Now, we're on around 50 stations in the US and Canada.

WWE: I can only imagine how thrilling it must be, as an Elvis fan, to play not only the hits, but the more obscure songs as well?
EO: It's no less a thrill now than it was in 1988. I'm essentially given the freedom to take the music of my favorite artist, and play it on 50,000 watt radio stations. Who wouldn't get a kick out of that?
Additionally, I've had so many fun experiences behind the scenes. What Elvis fan would say no to guest-hosting a QVC Elvis special, or interviewing people that knew Elvis, or even having the opportunity to cover events at Graceland and be given access to areas not on the public tour? Like Elvis said, "Tough was to make a living".

WWE: What's the next step in growing the audience base?
EO: I think that the overseas markets are a logical next step. In many ways, Elvis is more popular on foreign shores than he is in his home country. "Elvis ­ The Concert" has done much better internationally, for example. We're both aware of the Elvis fan strongholds in countries like Denmark, Brazil, Japan and the UK, among many others.
Getting on the air in these locales presents a challenge. In the US, we know who our prospects are. We're always knocking on doors. Overseas, it's not as easy. We don't know which radio stations would accept an Elvis program presented in English. So, I'm asking for help from those fans that would like to hear us in their hometown. If they would drop me an e-mail, with any and all details on local stations they feel could be a good fit, we'll take it from there. I can be reached at jay@elvisonly.com .

WWE: What other information will find at your website?
EO: For listeners, the ELVIS ONLY website offers a quick way to submit song requests. There is also an Affiliate Stations list that shows our lineup, and has links to those stations that stream ELVIS ONLY live.
The website is really meant to be a sales kit for radio stations. I'm not trying to compete with the many wonderful fan sites. Obviously, I visit WWE on a regular basis. I'm also a big fan of FECC . I'm an avid reader (and an occasional poster) on the messageboard. I love Elvis World Japan as well.



WWE: Are you heard on the Sirius Elvis channel?
EO: No. At this point, in most cases, a program is either a terrestrial or a satellite radio show, but not both. My contracts offer stations exclusive broadcast rights in their respective markets. Plus, it doesn't make sense to compete with myself in that way. If I'm dependent on broadcast ratings, and I add a second distribution option in a market, it makes sense to assume those ratings will suffer. The show lives or dies based on those numbers.
And, of course, my show is free. That being said, I think Sirius does a good job with Elvis. Both satellite services have along way to go towards positive cash flow. I hope they make it, in part because they put pressure on broadcast stations to be less cookie-cutter and offer more creative programming.

WWE: Jay, thanks for taking the time to talk with us.
EO: Thank you, Paul, and keep those rare CDs and DVDs coming!